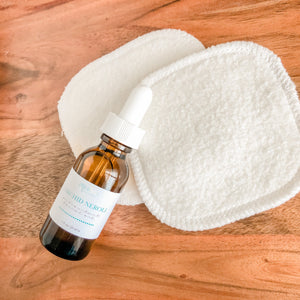 Rich in vitamins, antioxidants and omega-3s, our Facial Oil is a curated blend of six natural plant oils and essential oils renowned for their skin rejuvenating properties. Formulated to nourish, protect and revitalize your complexion, our facial oil helps keep your skin healthy and glowing as it replenishes your skin's natural oil content and feeds skin with nutrients needed to restore itself.

To use: Apply oil to damp skin following morning and/or evening cleansing routine. Dispense 3-4 drops of facial oil onto your four fingertips, rub fingertips lightly together and gently press oil onto your cheeks, forehead and then chin to distribute oil to largest surface areas, follow with gentle upwards strokes to massage evenly into the skin.
Featured ingredients:
ORCHID EXTRACT: used in Asia for years as a treatment for fine lines, wrinkles, and known for its restoring skin elasticity properties.
JOJOBA OIL: mimics sebum; balances oil; emollient

VITAMIN E OIL: moisturizing; emollient; antioxidant
Packaged in 1 ounce glass bottle with glass dropper.